No.01 Customs Clearing and Forwarding Agent

The only company in SRI LANKA that handles all the tasks relating to Vehicle Buying from JAPAN, import and export.

We handle,
General Cargo clearing including containers
Vehicle Auction Buying from JAPAN
Vehicle shipping
Vehicle clearing and freight forwarding
Vehicle Registration and so on.

Any task related to Customs clearing of goods.

We give our customers proper instructions on how to get your own vehicle from Japanese Auctions.
We help them bid the vehicle and advise our customer on how to open a Letter of Credit (L/C) from their local bank. Consultation and Sri Lanka duty values are provided free of charge.

That is why we created our motto, LOW COST FAST CLEARANCE.
Experience the true service of owning your vehicle. Contact us for more details.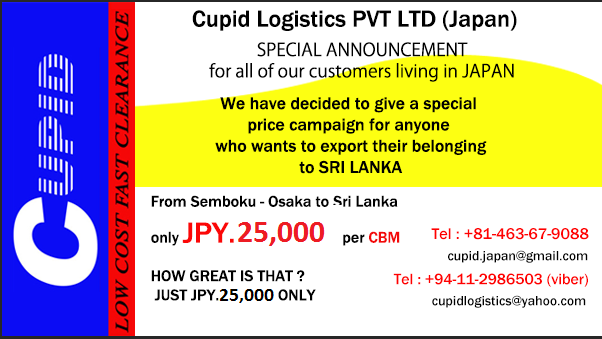 ldreKsl oekaùuhs
ys;j;a uy;auhd/uy;aush,

lshqmsâ f,dcsiagslaia fjns wvjshg msjsiSu ms,snoj uq,skau Tng ia;+;sjka; fjus. f¾.== f;dr;=re iy wfkl=;a fudag¾ r: wdkhkh lsrsfïoS w;HdjYH f;dr;=re we;=,;a wmf.a fjí wvúh m%fhdackhg .kakd w;s jsYd, msrsfika jevs msrsila Tjqkaf.a fudag¾ r: ,xldjg meusKs miq ksIaldYk (CLEARING) lghq;= wm wdh;khg ndr fkdoS fjk;a fjk;a ksIaldYk wdh;k j,g ,nd fok nj wmg ksrSlaIkh ù we;. fuu f;dr;=re we;=,;a fjí wvúh mj;ajd f.k hdu ioyd wm w;s jsYd, fjfyi uykaishla iy uqo,a o jeh lrk neúka Tn f.kajk jdyk ksIaldYk lghq;= wm yg Ndr fok fuka b;d lreKdfjka b,a,d isgsus. tfia fkdue;s jqjfyd;a bosrsfhaoS wm iu. iyfhda.fhka ksIaldYk lghq;= lrk whg mukla fuu fjí wvúhg msjsish yels jk mrsos idudcsl ryia wxlhla ,nd oSu ms,snoj lreKq wjOdrKh lruska isgsk nj b;d ldreKslj okajd isgsus.

wOHlaIl,
lshqmsvs f,dcsisgslaia ,

Dear Beloved Customers,

First of all, thank you so much for visiting our website for information regarding Import, Export and Clearing. This is a very special announcement for all the customers who visit our website.
Recently we have discovered that many of the customers use our website in order to view information such as vehicle duties, customs special notices etc., but the customers do not request for our services (import. Export, clearing). We, as a company have to spend the time, money and effort in order to gain relevant information regarding customs tasks and maintain this website. Therefore, we would also like to make a very kind request from all the visitors. As much as we appreciate visiting our website, we would also like you to give your vehicle clearing tasks to us while using our services.
If the above situation continues, our management may have to take a decision on publishing these details only to customers who requests our clearing services. We shall develop a special member access area for Customs related information for active customers who value our work and services.
Thank you for your understanding and we apologize for any inconvenience caused.

Management
Cupid Logistics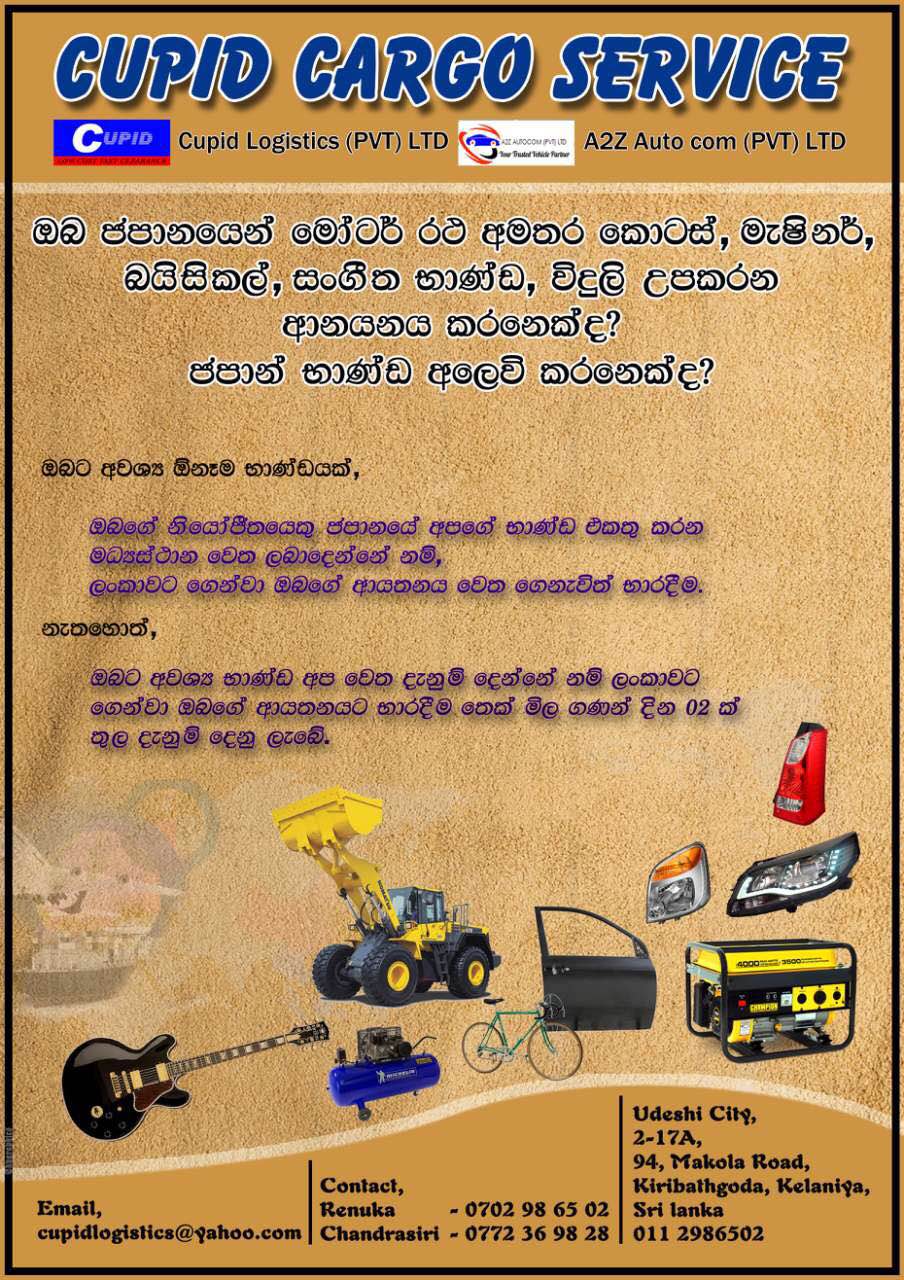 &copy Copyright 2016 kazumi fernando. All rights reserved